El Dr. Calduch, Vicepresidente de la Fundación Terapias Naturales, participó en el International Symposium on COVID-19 Treatment China-USA-EU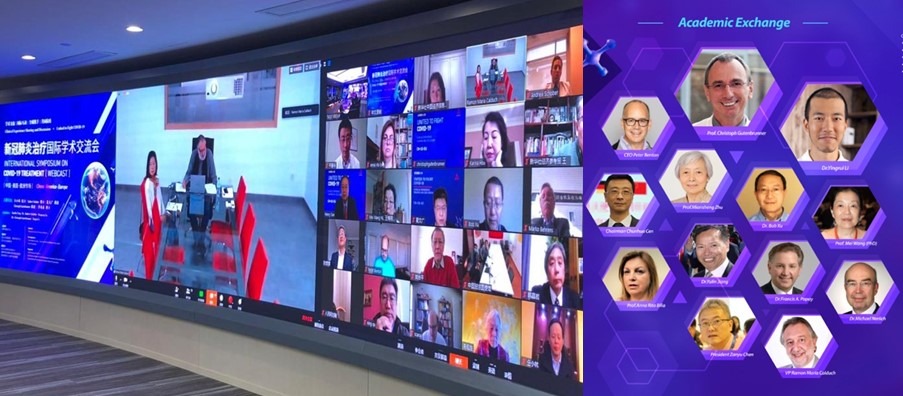 8 de abril del 2020
Acupuntura y MTC
El 6 de abril se celebró por videoconferencia el International Symposium on COVID-19 Treatment bajo el lema de "United to Fight COVID-19, Clinical Experience Sharing and Discussion". Participaron expertos procedentes de China, Estados Unidos y países europeos como Italia, Francia, Alemania, el Reino Unido, Holanda, y por parte de España asistió el Dr. Ramón Maria Calduch, Vicepresidente de la Fundación Terapias Naturales y de la Fundación Europea de MTC.
La Comisión Nacional de Salud de la R.P.China ha destacado los resultados alentadores que se han logrado al tratar el COVID-19 combinando la medicina china con la occidental. El mundo debe unirse y no escatimar esfuerzos para contener el virus. Las opciones terapéuticas deben complementarse y apoyarse en beneficio de los pacientes.
Expertos prestigiosos de China, USA, Alemania expusieron sus experiencias, entre las que se destacan la presentación del académico Tong Xiaolin (Chinese Academy of Sciences) titulada " Prevention and Treatment of COVID-19 with Traditional Chinese Medicine", la del Prof. Andrew Schober (Critical Care Specialist, Department of Anesthesiology, School of Medicine, University of California San Francisco. USA) titulada " Management of COVID-19 Induced ARDS in ICU", la del Prof. Wenguang Xia (Hubei Provincial Hospital of Integrated Chinese and Western Medicine) con el título de "Rehabilitation Strategy for COVID-19 with Integrated Traditional Chinese and Western Medicines", y la del Prof. Christoph Gutenbrunner (Chairman of the WHO Global Rehabilitation Association; Director of the Rehabilitation Centre of MHH, Germany) con el título de "Prevention Strategy for COVID-19 in Europe-- Experiences from Hannover Medical School."
En el panel de discusiones, el Dr. Ramón Maria Calduch planteó la cuestión de cómo la medicina china ha participado en la prevención y el tratamiento del COVID-19 en los países de la Unión Europea y en América, a la que respondieron expertos del Reino Unido, Francia y los EEUU explicando sus experiencias en ese sentido.
Este simposio fue organizado por China Association of Chinese Medicine en colaboración con Tasly Holding Group, American Chinese Medicine Association y Tasly Foundation. También contó con el apoyo de medios de comunicación como la Agencia de Noticias Xinhua, China Daily USA, People's Daily, health.people.cn, entre otros. Según han informado los organizadores, más de 45.000 personas presenciaron el simposio en directo.
---